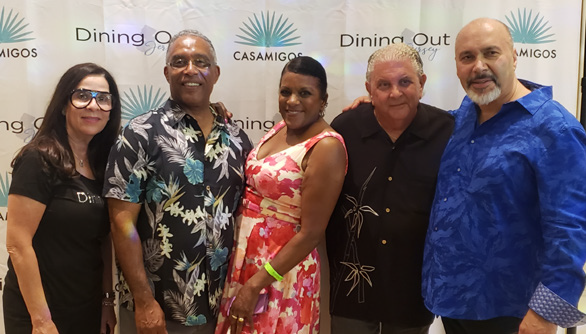 Life while not quite normal yet, seems to be improving as this summer showed many of our area's restaurants
open for business and customers enjoying both their outdoor patios, rooftops, and dining rooms. It is vital to our local economy as well as our mental well-being to get out and socialize and what better place to socialize than over a hearty, delicious meal or a hand-crafted cocktail at one of the area's lounges or bars. Speaking of restaurants, we are happy to welcome a few new great restaurants to Dining Out Jersey. Oiso BBQ Pit in Fort Lee, Ada Mediterranean Grill in Fair Lawn, Q-Tal in Kearny, Matuto Bar & Grill in the Ironbound section of Newark, Bazzarelli's in Moonachie, Blue Morel in Morristown, The Bradford in Bridgewater, Concourse Club in Wood-Ridge, Moo Moo's Italian Steakhouse in Cresskill, The Shepherd and the Knucklehead in Hoboken. Get more info including a sample menu for each of these places in this issue's dining guide.
It was my honor to have Michael Monaco grace our cover. I was a huge fan of his from way back in the day when my wife and I had some of our first dates at one if his most popular previous restaurants, Picco Lissimo in Fort Lee. Mike has so many interesting, funny, and memorable stories to tell. Now he has brought some of his magic to Picco Tavern and has some plans to improve on this classic. Picco is the only restaurant on the block, on Prospect Ave in Hackensack at The Excelsior apartments. He is almost always there taking care of business and his guests, so if you see him, say
hi. He loves talking with his customers.
I recently spoke with legendary Jersey Boy, Frankie Valli who happens to be a good friend of Michael Monaco. You can read some of what we discussed in this issue. Another music legend, guitarist Al Di Meola also invited us to one of his in-home events where he cooked and entertained us graciously with his wife Stephanie. We share some of that with you here as well. Dining Out Jersey introduces Mixology with Matt (Benacquista) as he interviews some of North Jersey's hottest bartenders at some of the coolest bars and always comes up with some great tips and recipes.
Linda will give you some great holiday gift giving ideas in Linda's List.
Broadway producer Wendy Federman updates us on the Great White Way and discusses how Dining Out Jersey will offer guests VIP experiences including the hottest tickets to Broadway shows and dinner at some excellent restaurants.
We had some really great events including the first Dining Out Jersey Foodie Expo which was held at The Terrace at Biagio's this summer and was a huge success. And we will have quite a few more fun and exciting events in the upcoming months. Keep checking back at diningoutjersey.com for event updates and ticket info. The Dining Out Jersey Journey Book is out and one of the best gifts you can give the foodie on your list! 2 for 1 entrees at some of the best restaurants in North Jersey. You can buy yours at diningoutjersey.com as well.
From all of us at Dining Out Jersey I would like to wish you and yours a happy, healthy, and food
filled holiday!