Michael Monaco and his "Picco" brand get better with age
"Stay to the playbook. Stay to quality and don't worry about anything else," is the advice inherited and passed down by Michael Monaco, managing partner of Picco Tavern, to chefs today looking to build a successful Italian restaurant. It has evolved from a staple in North Jersey's fine dining scene to a great space to cater special occasions.
Picco Tavern sits comfortably within the graceful and vibrant Excelsior II Apartments, in Hackensack. Its grand dining room which accommodates up to 200 guests, and a classic bar, elevate the dining experience and is a testament to Monaco's deep understanding of Italian American culture. Each corner of the restaurant has a comforting atmosphere.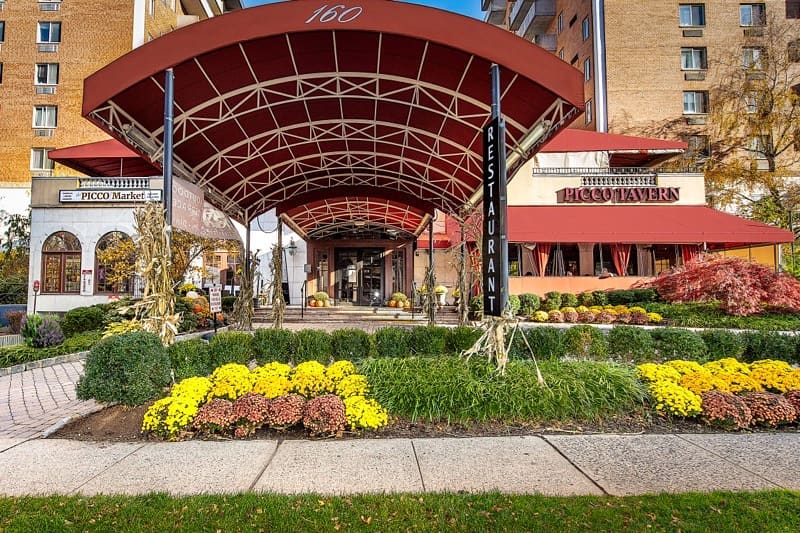 The main dining room is subtle, yet elegant with rich wood floors, high ceilings and Old-World European inspired carpentry. Before dinner, the well-stocked bar offers a quiet moment to unwind before dining. The new patio, with billowing tents is perfect framing for a grand themed party, while also providing cozier spaces for smaller parties or couples. The three terraces with awnings are available most of the year, with radiant heat for comfortable outdoor dining. The grand dining room can accommodate parties up to 200. "Picco is perfect for hosting small weddings, showers, mitzvahs, or any event in between", says Catering Manager and Hackensack native, Joan Cerbo. For those who wish to cater the same delicious foods for their off-premises affairs, they also have Picco Kitchen located in the lobby which also makes sandwiches, soups, salads, and their craft pizza. All the artisanal breads, muffins, pastries, and cakes are baked in-house.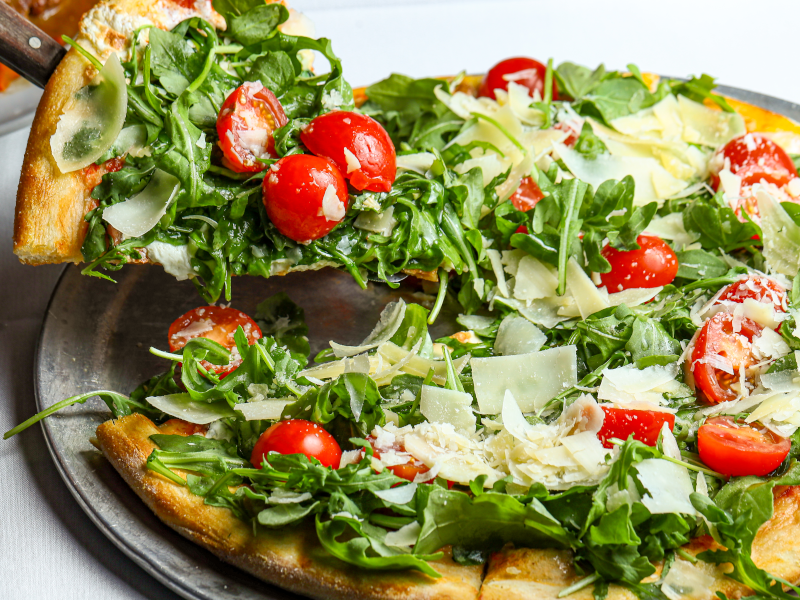 Monaco, a local legend in the North Jersey dining scene whose first major accomplishment was purchasing the liquor license from Palisades Amusement Park after they closed and opening Michael's Bar and Lounge in Cliffside Park, brings his trademark style of dining, remembered, and shared by many of his patrons. Popular dishes, such as Clams Oreganata and pasta masterpieces like his Jumbo Lump Crabmeat with Capellini, exemplify his respect for fine, traditional Italian dining, honoring many regions of Italy. Combining the finest ingredients, with the unspoiled flavors of the farm, the land and the sea, Monaco brings the rich Italian heritage experience to all who "come to his table."
Italian Classics shine with specialty cocktail selections such as the Negroni Affogato, with Tanqueray gin, antica formula sweet vermouth, Campari and topped with an orange peel. Martini recipes progress with the times, staying true to refreshing flavors like cucumber while heading in a modern direction with a Strawberry and Basil Martini, made with Tito's Handmade vodka, fresh strawberries, fresh basil, and lemon and lime infused sour mix. Monaco looks back fondly on his career and credits the culinary greats and mentors he has met along the way, with teaching him more about life's journey than food. His underlying principles include "play by the book" and make your table welcoming to everyone.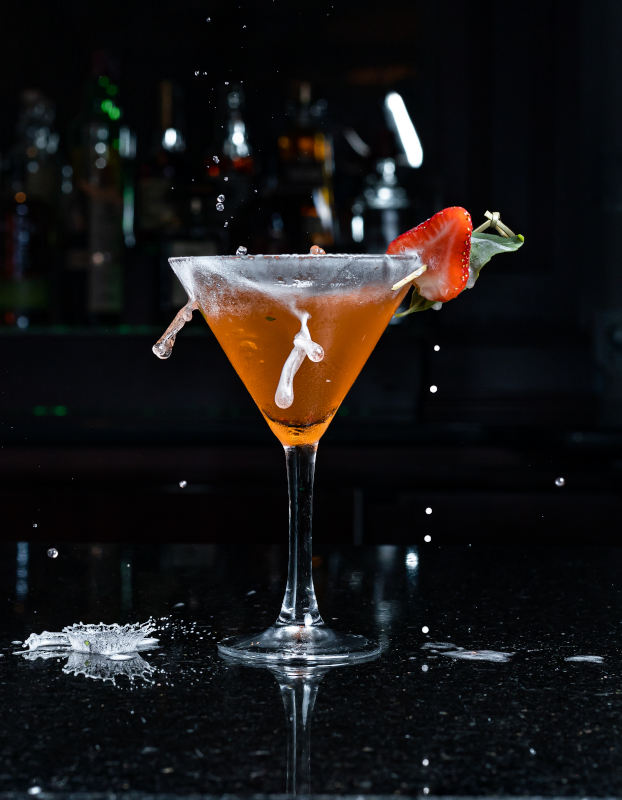 A Southern Italian chef, Monaco's repertoire includes Neapolitan dishes as creamy, warm polenta with hot and sweet sausage, braised lamb, beef, pork and veal and he is also versed in Northern Italian Tuscan cuisine, as demonstrated by his use of braised short ribs topped with shaved parmesan cheese and truffle oil and an array of risotto dishes. He admits he is an avid researcher of the innovations made by chefs in the 1980's, from Danny Meyers famous Union Square Cafe to famed Northern Italian chef Pino Longo who opened La Madri's in NYC. Monaco started his career at Peluso's which was in Cliffside Park and credits Chef Dennis Raggi as his first culinary teacher. Trent Peluso flew Monaco at age 19 to Italy on a culinary expedition that set the stage of becoming a chef. "Trent made the best clams oreganata", says Monaco. Serafino Mansueto, who came from the legendary restaurant, Archer's which was in Fort Lee, was another chef who influenced Monaco's cooking.
However, it all came back to the fundamentals of Sonny De Crescenzi who opened Archer's, and Sonny D's in Secaucus. Sonny D was the master who influenced many restaurants in Bergen County. Monaco says his cooking brings honor to Sonny D who taught him the recipe for life. Monaco, the respectful son, also credits his father, Sam Monaco, a Hudson County Hall of Fame football coach, with teaching him the art of understanding other peoples' success and learning from your competitors whether it be scouting other teams or scouting other restaurants and their recipes. Preparation and knowing the competition was key in all business.
Monaco will tell you every chef and great restaurant's reputation lies on the cooking itself. Monaco broadens Picco's menu while keeping its heritage. Classic Italian dishes rise to a new level using the best ingredients such as adding humble breadcrumbs as a staple in Monaco's repertoire of great recipes. Some examples are the Shrimp Arrabbiata with Jumbo Shrimp, garlic, and parsley, and Clams Oreganata made with garlicky breadcrumbs, and lemon sauce. Chicken Francese is a favorite (prosciutto optional) in a lemon and white wine reduction. Diners also love classics like Center Pork Chop Arrabbiata hitting notes of mushrooms, garlic and cherry peppers. Of course, the pasta is freshly made to Monaco's stringent standards, and the top-quality sausage with fennel and chopped tomato is a flavor not to be missed.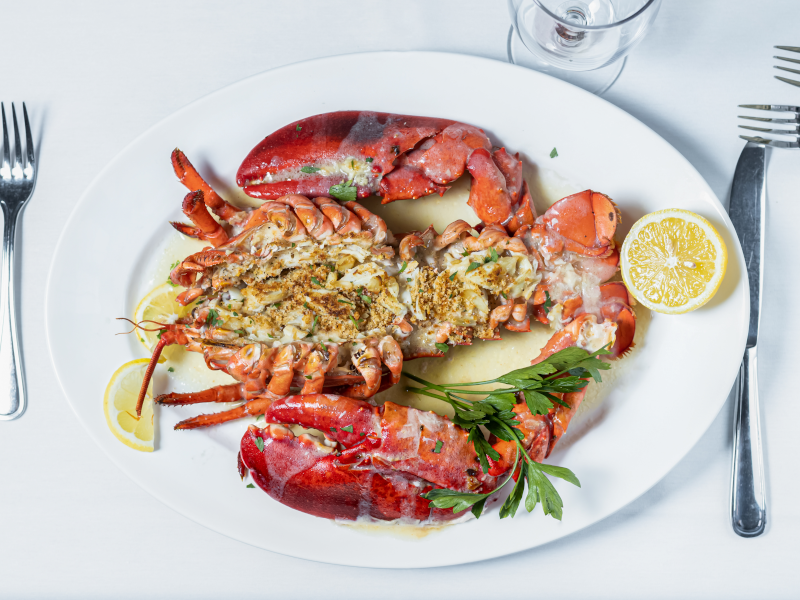 With summer past us and the beautiful seasons ahead, Picco Tavern will resume their gracious Sunday Brunch. From crisp tablecloths to special serving stations to featuring their in-house bakery made brioche and waffles. The desert table rivals the best New York brunch dessert tables and features traditional Italian pastries including, you guessed it…cannolis filled with sweetened ricotta cheese, enriched with chocolate chips, and dusted with pistachio crumbs.
Monaco's history in the world of fine dining, has been affected by destiny and good luck. His repeated exposure to great chefs and smart business entrepreneurs, comes up time and time again, including trouble shooting for Ronnie Mawn's restaurant group. Ronnie's Run, a takeoff of PJ Clarks, a very popular establishment where Monaco's French culinary training and organizational skills were implemented to turn a potential crisis into another success story.
To hear Monaco tell it, from respecting the proximity to other fine eateries, to welcoming casual diners who valued wonderful food, to subtly bringing traditional recipes forward in a new way, focusing on the gifts of the sea, these ideas established Picco Lissimo in Fort Lee, the restaurant for which Monaco may be mostly remembered for. His "No Jackets Required" policy was an industry first in Bergen County.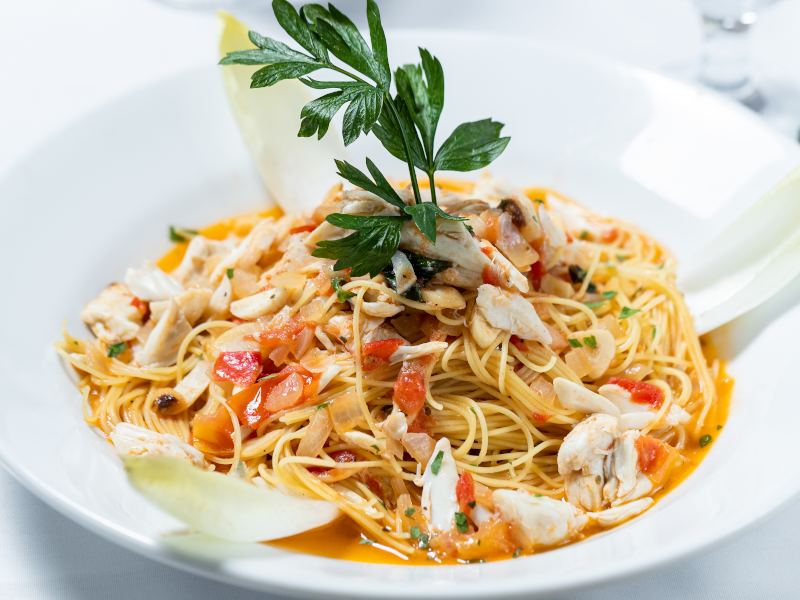 As a man who considers himself a chef first, he crafted the menu at Picco Lissimo which became "home to Calamari, Scungilli, and linguini White Clam sauce and above all pasta," Monaco quickly moved into Specialty Italian Seafood, notably, Red Snapper Francese, Lobster Fra Diavlo, Striped Bass Livornese, and honored his mentors these iconic dishes: Sonny D's signature recipes, Shrimp in White Wine, lightly battered shrimp sauteed in butter, garlic, lemon, white wine and garlic juice was perfectly executed, and Chef Serafino's famous Capellini with Crabmeat, onions, garlic, a touch of tomato, consume with jumbo lump crabmeat, folded into capellini with chopped tomatoes.
Reminiscing fondly about Picco Lissimo, Monaco firmly shares his outlook: the success of Picco Tavern is on the shoulders of North Jersey's rich Italian cuisine, combined with current artisanal and organic ingredients for today's diners. "Stay to quality and don't worry about anything else", says Monaco. He reminds the readers that the Prospect Avenue location, has been a restaurant (aptly named "The Restaurant") in the same location for over 20 years, and the most recent 5 years as Picco Tavern. The owner of the Excelsior was 20 years ahead of his time building a high-end restaurant within his luxury apartment buildings, and Picco Tavern continues his vision.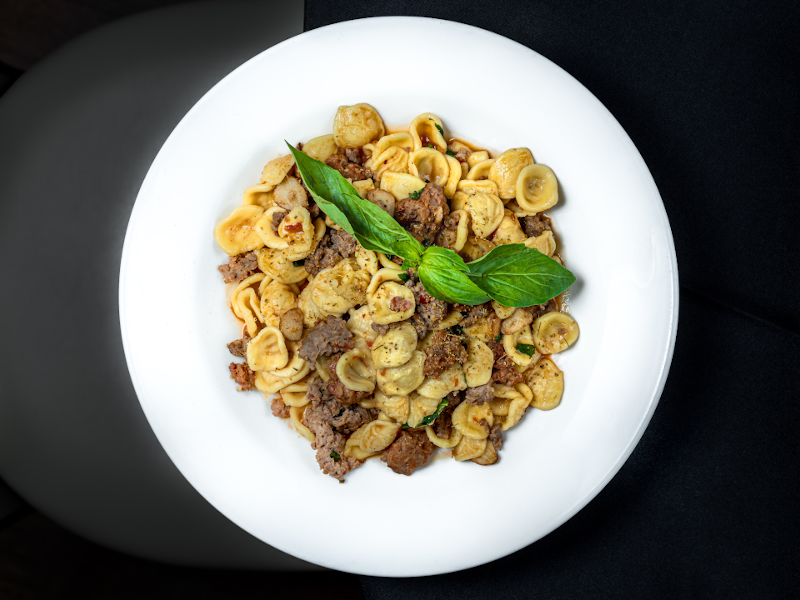 One may arrive at Picco Tavern with an appetite for delicious Italian food and be fortunate enough to cross paths with Monaco who frequently regales guests sitting at their tables or at the bar. Monaco enjoys the narrative of how he met Frankie Valli, Stevie Wonder, George Benson, Brooke Shields, and countless celebrities at Picco Lissimo, Baci and East Hill Grill and formerly owned Sanducci's and other restaurants. Each welcomed in the style befitting a celebrity but who wanted to sit and eat "like family."
The show is always "on" at Picco Tavern. Family occasions are his specialty and Monaco treats his staff like family. Monaco acknowledges his original pizza maker at Picco Lissimo who worked with him for 40 years, Giuseppe Scadella, who works for Monaco's consulting company, Chefs United LLC, as one who has been loyal to Monaco throughout his career. "He still comes in to make the sauce and mozzarella for the restaurant." Another, Benito Chaca-Guiracocha, Monaco claims is one of the best chefs he has ever worked with since cooking with Serafino, Sonny D and Dennis Raggi. Also named was Jose Lopez for having immense cooking talent and having worked at Picco Lissimo for 20 years. Opportunities were and still are a part of the Picco Tavern family. It's worth noting one of their dishwashers, Oscar Romano, became the Chef at Picco Lissimo whose son went on to graduate from Harvard. Finally, Monaco emphasizes the importance of the pantry, alluding to Jose Tohabanda as the leader of this part of the kitchen.
"These little town blues are melting away," all because one boy from Cliffside Park decided to make a brand-new start of Italian cuisine at the Picco Tavern, in good, old New Jersey.