The history behind the popular Middle Eastern treat and tips on how to prepare it
Growing up in the 1960s, there was always lahmajun in my kitchen. Typically made by a few local Armenian bakeries, we would always have a reserve in our refrigerator. This delicious Middle Eastern treat was commonly known as "Armenian Pizza" by my childhood friends. It was a big hit as an after-school snack. To this day, I have yet to find a person who has tried one and did not love it, regardless of their ethnic background. For those of you scratching your heads, just what is lahmajun and where did it originate?
Translated from Arabic as "meat with dough," Lahmajun consists of thinly-rolled, rounded dough topped with minced meats such as lamb and beef, along with vegetables, herbs, and spices like tomato, onion, parsley, cayenne pepper, cumin, and paprika minus the cheese. It is baked until the crust is crispy and brown, although our family has created several variations which are unorthodox, but delicious nevertheless. We sometimes add buffalo sauce and cheddar cheese or have crafted versions with jalapeno peppers, Monterey Jack and cheddar cheese and cilantro for a Mexican-style take. Also, with spinach, feta, and black olives — always on top of the already-spicy lahmajun base of meat and herbs. When enjoyed plain, it is often garnished with sliced raw onion and parsley and a squeeze of lemon.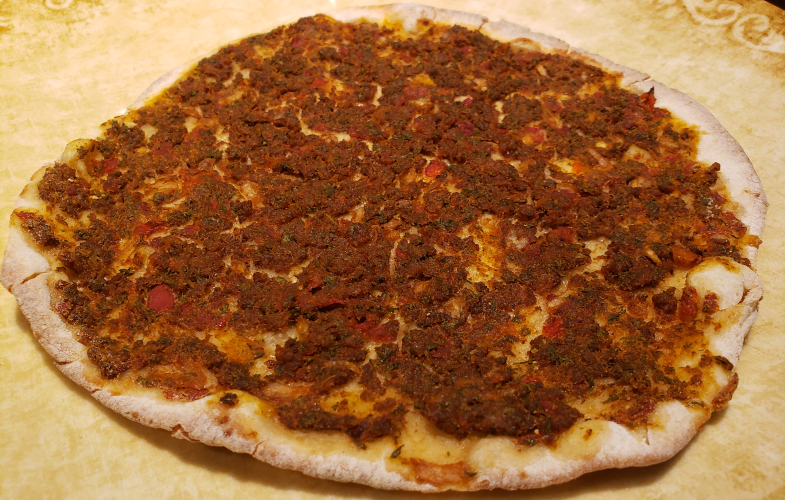 While its Middle Eastern origins can be argued, most evidence points to Armenia, Syria, Lebanon, Iraq, and later, Turkey. Dating back to the Medieval Times, large stone ovens were used to bake flatbreads, stuffed or topped with meat, cooking the bread and the topping in unison. Prior to that, baking flatbreads in tandoors goes back even further to thousands of years. This was most likely where lahmajun was created. Lucky for us, we are in an area of the country where you can find lahmajun at many Middle Eastern restaurants who have it on their menu. There are also a few local bakeries who masterfully craft this delicious dish. One of our favorites for quality and taste is Kupelian Foods, which is the oldest USDA-approved plant that bakes lahmajun.
A versatile indulgence and easy to make, lahmajun can be enjoyed as an appetizer, snack, or a meal — just pop one in a toaster oven for a couple of minutes and voila! When my family and I are entertaining, we bake multiple lahmajuns on a cookie sheet in the oven and put them out as appetizers (but watch them quickly disappear!)
For more information on where you can purchase Kupelian lahmajun call 201.440.8055. Kupelian lahmajun is also served at Yogart Frozen Yogurt Studio in Edgewater, 201.941.0004.
BY PAUL TURPANJIAN, DINING OUT JERSEY PUBLISHER