Attention All Foodies!! Enjoy an evening of tastings from North Jersey's Best Restaurants, Gourmet Markets, and more including Craft Beer, Wines, and Spirits, BBQ, and Desserts. Music, Celebrity Guests, Prizes, and more will make this an evening to remember!
The expo will once again be held at Biagio's The Terrace in Paramus. Both indoor and outdoor exhibits on the rooftop are planned. If you thought last year's show was huge, this year is expected to be bigger and better.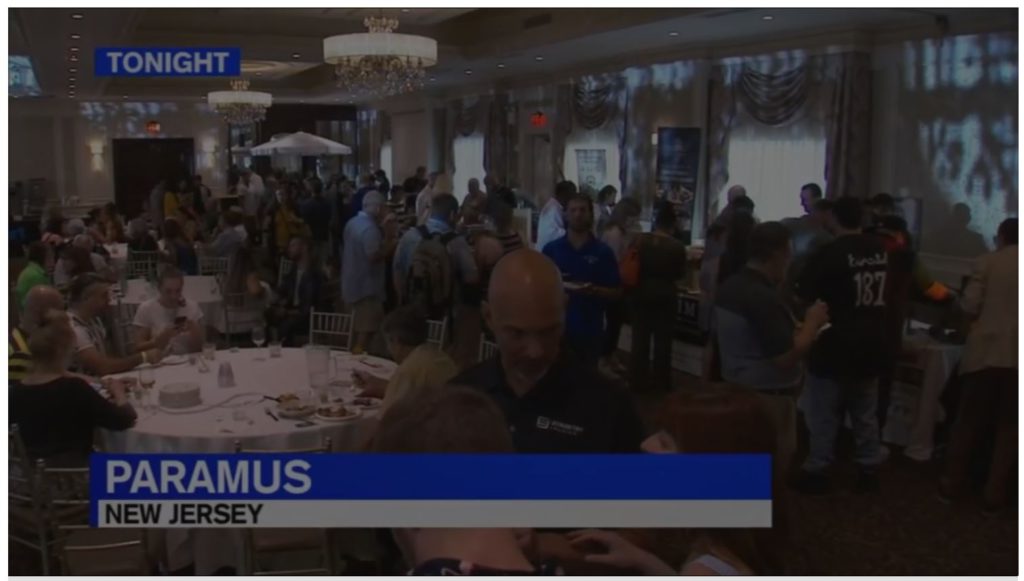 Your ticket includes all samples and tastings from exhibitors including samples of wine, beer and spirits (age restriction). Entertainment and door prizes are included. Additional cost items include a cash bar and any packaged items that exhibitors may offer for sale such as discounted gift cards or food items. DJ Jordan Marshall of XPLOSIVE Entertainment (@xeevents) will make sure the foodie beat never ends.
This year a silent auction will be held to benefit the Center for Food Action. CFA, founded in 1976, is a non-profit, 501 (c)(3) organization that provides emergency services to northern New Jersey's poorest and most vulnerable residents. CFA provides food, housing, utility, and heating assistance and offers counseling and advocacy services to low-income individuals and families.
*** GROUP DISCOUNTS AVAILABLE. Contact us at: events@diningoutmedia.com ***
Be sure to join our mailing list to receive updates on this and other exciting Dining Out Jersey events and promotions. Keep watching for updates on our Facebook page, Instagram and Twitter .
Most of last year's exhibitors are returning along with outstanding new additions (subject to change). Here are just a few:
1776 by David Burke (Morristown), Ruth's Chris Steakhouse (Paramus), Vias Wines (viaswine.com), El Asadero Mexican Grill (Rochelle Park/Passaic), worldFlats (Montclair/Paramus/ Ridgewood), Ventanas at the Modern (Fort Lee), Son Cubano (West New York), Let's Meat Steakhouse (Rivervale), Aran Wines (aranwines.com), Franco's Metro (Fort Lee), Bazzarelli (Moonachie), Segovia Restaurant (Moonachie), Big Red Monster/Presto Wines (bigredmonsterwine.com), Matuto Bar & Grill (Newark), River Palm Terrace (Edgewater), Woodcroft Steakhouse (Nutley), Electro-Freeze Tri State, Super Samba Show, Aldos's (Wyckoff), Annabella's House of Mozzarella (East Rutherford), Biagio's (Paramus), The Brick House (Wyckoff), Kimchi Smoke (Westwood/Ridgewood), Cafasso's Fairway Market (Fort Lee), Piast Meat & Provisions (Garfield), Delhi Accent (Ridgewood), Dino's Bar & Grill (Edgewater), Donatella (Harrington Park), Eclectic Chic Boutique (Montclair), Fontana Tritone (Leonia), Ghost Hawk Brewery, Guerreiro's Gelato (Montclair), Iachetti's Kitchen (Glen Rock), Jalwa (Montclair), Lefkes (Englewood Cliffs), Le Bec Fin Charcuterie Artisanale, Lolita's Mexican Cantina (Westwood/North Bergen), Mr. Cupcake, Organic World US, RP Prime Steakhouse (Mahwah), Rustica Lounge Bar & Restaurant (Cliffside Park), Yogart Frozen Yogurt Studio (Edgewater), Casamigos Tequila, Ciroc Spritz, Crown Royal, Purple Grace Exquisite Tea, Williams Sonoma, Zing Coffee (zingtheday.com)