Update – Dec. 30th, 2021 – Regrettably, the Feb/Mar/Apr 2022 dates have been canceled. Due to the ongoing and unpredictable state of NYC requirements and potential Broadway show shutdowns, Dining Out Jersey must delay. We plan to schedule new packages mid-year. All purchasers will be fully refunded. Thanks for your support.
Dining Out Jersey's "Across the River" and Broadway features have proven quite popular with readers. With the long shutdown now passed, we think it's time to enjoy again. With our new Show & Dinner packages we're making it easy. Our packages include door to door luxury coach to sidestep the increased city traffic, high parking charges, and unknowns that might ruin your experience. Since we're focused on New Jersey restaurants, we'll introduce you to some of the best dining in the process.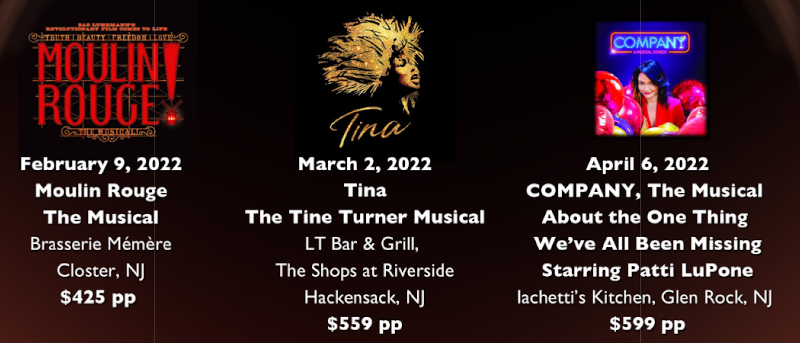 February 9th, 2022: Moulin Rouge / Brasserie Memere.
March 2nd, 2022: TINA, The Musical / LT Bar & Grill.
April 6th, 2022: COMPANY, A Musical Comedy / Iachetti's Kitchen.
All VIP Packages Include
Hassle-free, luxury door-to-door transportation from restaurant to theater and back.
Prime, up-front orchestra seating (matinee / 2pm).
Multi-course gourmet Dinner after the show.
Includes all taxes, fees, and gratuities.
When available, experience a meet & greet with cast members.
For more information, email us at info@diningoutmedia.com or telephone 201.380.2011.